Curriculum Information
KS3 Curriculum Overview KS4 Curriculum Overview
Knowledge Organisers Values Curriculum & Drop-Down Days
Please click on the links below to view the information on all the courses available to our students. Lists of courses offered to our students in Years 9-11 can be found at the bottom of the page.
Year 8 students will be offered Key Stage 4 subject choices during the 2019/20 Spring term. Help and guidance for this will be discussed with all students with helpful information for students, parents, carers & guardians. This will be available on the Options tabs under students on the school website.
If you have any queries about the curriculum the school is following, please contact the appropriate Head of Year or Miss Sam Johnson.
Miss Sam Johnson, Director for Student Progress: sj@selbyhigh.co.uk
Mrs Eunice Mouncer, Year 7 Leader: em@selbyhigh.co.uk
Mrs Angela Hunter, Year 8 Leader: ahu@selbyhigh.co.uk
Mrs Emma Elgie, Year 9 Leader: ery@selbyhigh.co.uk
Mrs Lynne Bentley, Year 10 Leader: lb@selbyhigh.co.uk
Mrs Sharon Baron, Year 11 Leader: sba@selbyhigh.co.uk
Art & Photography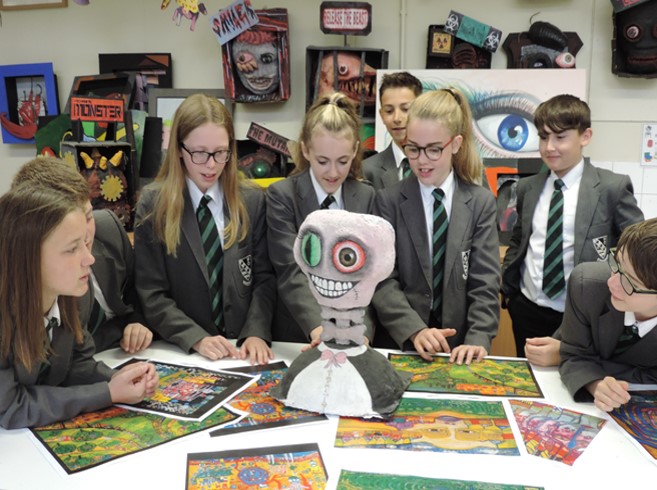 Name : Mrs Nicola Whattam
Position : Curriculum Area Leader
Email : nwh@selbyhigh.co.uk
Dance
Drama
English
History
ICT
Mathematics
Media Studies
Modern Foreign Languages
Music
Physical Education
Religious Education
Technology
KS4 Qualifications
Please click on Qualification name for full specification.
Qualification
Exam Board
Exam
Coursework
Contact in school
English & Media Faculty
8700

AQA

2 papers – 50% each

No

Mr Bowell

gb@selbyhigh.co.uk

GCSE English Literature (9 – 1)

8702

AQA

Paper 1 – 40%

Paper 2 – 60%

No

Mr Bowell

gb@selbyhigh.co.uk

Entry Level Certificate: Step up to English

5970

AQA

2 Externally set assessments – 50% each

No

Mr Bowell

gb@selbyhigh.co.uk

603/1115/0

Eduqas

Paper 1 – 40%

Paper 2 – 30%

30%

Mr Patchesa

bp@selbyhigh.co.uk

Maths & Computing Faculty

J560

OCR

3 papers equally weighted

No

Mr Jones

cj@selbyhigh.co.uk

Level 2 Certificate in Further Maths

8365

AQA

2 papers – 50% each

No

Mr Jones

cj@selbyhigh.co.uk

Entry Level Certificate in Maths

5930

AQA

4 assessments (externally set) - 50%

4 assessments (teacher set) – 50%

Mr Jones

cj@selbyhigh.co.uk

J276

OCR

2 papers – 50% each

No

Mr Smith

jsm@selbyhigh.co.uk

Cambridge National in Creative iMedia

OCR

1 paper – 25%

3 units - 75%

Miss Levitt

kle@selbyhigh.co.uk

Edexcel

2 papers – 50% each

No

Mrs White

jwh@selbyhigh.co.uk

Science Faculty

AQA

6 papers equally weighted

No

Miss Brigg

rb@selbyhigh.co.uk

AQA

2 papers equally weighted

No

Miss Brigg

rb@selbyhigh.co.uk

AQA

2 papers equally weighted

No

Miss Brigg

rb@selbyhigh.co.uk

AQA

2 papers equally weighted

No

Miss Brigg

rb@selbyhigh.co.uk

AQA

3 assessments (externally set) - 57%

3 assessments (teacher set) – 43%

Miss Brigg

rb@selbyhigh.co.uk

OCR

1 paper – 50%

50%

Mrs Bell

scb@selbyhigh.co.uk

Ebacc Faculty

AQA

Paper 1 – 35%

Paper 2 – 35%

Paper 3 – 30%

No

Mr McArdle

cmc@selbyhigh.co.uk

AQA

2 papers – 50% each

No

Miss Burgess

sb@selbyhigh.co.uk

AQA

3 papers – 25% each (reading, writing & listening) 1 speaking exam – 25%

No

Mrs Lee

kl2@selbyhigh.co.uk

AQA

2 papers – 50% each

No

Mrs Harrison

hha@selbyhigh.co.uk

Eduqas

2 papers – 50% each

No

Mrs Harrison

hha@selbyhigh.co.uk

Performance & Creative Arts Faculty

OCR

2 practical exams – 30% each

1 written exam – 40%

30%

Mrs Sullivan

nms@selbyhigh.co.uk

Eduqas

1 paper – 40%

60%

Mrs Bentley

lb@selbyhigh.co.uk

Cambridge National in Engineering Design

OCR

1 paper – 25%

3 units – 75%

Mr Birkenshaw

sjb@selbyhigh.co.uk

Eduqas

1 paper – 40%

60%

Mr Lanzillotti

hl@selbyhigh.co.uk

NCFE

2 papers: 1 practical & 1 written – 40%

60%

Mr Lanzillotti

hl@selbyhigh.co.uk

OCR

2 papers – 30% each

40%

Mr Block

dkb@selbyhigh.co.uk

Cambridge National in Sports Studies

OCR

1 paper – 25%

3 units – 75%

Mr Block

dkb@selbyhigh.co.uk

Cambridge National in Sports Science

OCR

1 paper – 25%

3 units – 75%

Mr Block

dkb@selbyhigh.co.uk

Edexcel

No

100%

Miss Holt

lh@selbyhigh.co.uk

AQA

Externally assessment – 40%

60%

Mrs Whattam

nwh@selbyhigh.co.uk

GCSE Art & Design: Photography

AQA

Externally assessment – 40%

60%

Mrs Whattam

nwh@selbyhigh.co.uk

OCR

Externally assessment – 40%

60%

Mrs Wright

vwr@selbyhigh.co.uk