Selby High School's first York Pride
On Saturday 8th June, staff, partners, children, students and parents, carers and guardians from Selby High School came to together to celebrate LGBTQ equality, inclusiveness and diversity within our community alongside twenty five other schools and colleges and hundreds of other school participants in the York Pride parade. This was the first time Selby High School had been involved, joining Barlby High School from the local area who were also in the parade for the first time.
The parade took place at 12pm walking through the centre of York down to the Knavesmire in heavy rain. Staff from the English department including Mr Bowell, Mrs Welsh, Mr Dyke, Mr Khambatta, Mrs Pickering and Mr Kisby braved the lashing rain, supported by the wonderful Maths team of Mrs Thacker, Ms Blatchford and Mrs Perkin. Mrs Hunter led from the front and a special appearance from Mr Hinchliffe made the day even better.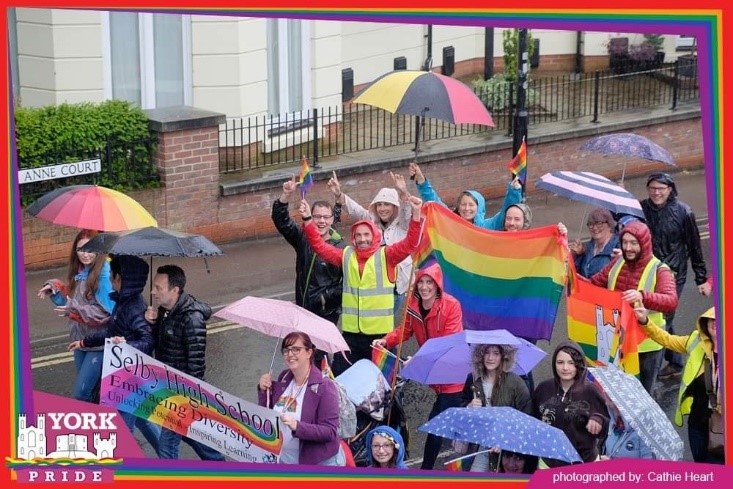 Despite the rain, hundreds of local people supported from the roadside, waving flags, banners and wearing face paints. Schools were selected to lead the parade this year, highlighting the importance of working closely with young LGBTQ people so that they feel supported and accepted.
During the week, the school showed its support of LGBTQ students and celebrated Pride month with our own Pride week. This included rainbow bunting at the school entrance, rainbow lanyards worn by staff, a huge bake sale (with help from student bakers, Mrs Welsh and Mrs Bentley!) as well as the flying of the rainbow flag, a symbol of acceptance and tolerance of LGBTQ community across the world, on our flag pole, alongside our school flag and the white rose of Yorkshire. Money from wearing of lanyards and selling of York Pride wristbands raised over £100 for York Pride. Incredibly, over £50 was also raised from the bake sale, which enabled the school to purchase our own banner that the staff and students were able to walk with on the parade.
Whilst the flags have come down, and Pride is over in York for another year, as a school community we continue to ensure that all our students feel valued, supported and safe, embracing diversity, unlocking potential and inspiring learners. Onto 2020!