Awesome Activities
Our students have become budding journalists as one of their activities this week. Please read on for a selection of their amazing articles!
* * * * * * * * * *
Did you ever have fun in school? Did you ever think you would make friends with new people in school hours? Did you think you couldn't have fun in school? Well, Selby High School will certainly amaze you as they have managed to succeed in their students having tons of fun and enjoyment. Just today, my reporting team interviewed a student and he said, "I loved every activity and my favourite activity was Face Painting. I think the idea of an activities week is a great idea and means loads of students have the opportunity to make new friends."
Everyone is enjoying it, even with people you have never met before; everybody has had a chance to make friends. Bouncy Castles to bead keyring making, trips out of school to street and Indian dance. Selby High will not disappoint our expectations as the teachers put their time, effort, hard work, creativity and money into these projects… all to make their talented young individuals learn more.
To conclude, it is clear to see that Selby High goes out of its way to make sure their pupils, even their staff, are learning every day and developing their social skills. As well as having fun in a creative, knowledgeable way.
Article by Jemma Fieldsend and Lauren Ann Balaban, Year 8
* * * * * * * * * *
'Activities week is my favourite time of the year as we get to do fun things we wouldn't do normally.' Activities week is a time for students and even the staff to learn new things and try out new skills. We interviewed some students from year 8 whilst they were doing a round the world quiz, with topics like food, sport stars, silhouettes of countries and even festivals. This is what they had to say:
"I really enjoy this activity as it makes me learn new things whilst having competition."
"I like activities week as it's quite fun and also we get to talk with friends and try things we wouldn't normally get a chance to do".
"My favourite lesson so far has to be dance! It was amazing getting taught by a professional."
There are a huge number of activities happening across school, but here is a rundown of just one of them...
This year we have had a very unique activity, as students were making Zambian rugs out of cardboard and carrier bags. This was inspired after last week when we had a group of Zambian visitors to Selby High School. This was part of our ongoing connection to Limulunga Basic School.
Here are some statements from the Selby High Students who were trying their hand at Zambian rug weaving.
'This is a massive eye opener about how Zambians make everyday items. It's hard work, but I'm looking forward to the finished product.'
'It's fun making Zambian rugs as I love art and DT.'
Finally the students had a very exciting opportunity to get taught by a professional dancer. They were given a routine and then had to choreograph some moves including a wave, a pop, a spin and some freestyle. We interviewed some students just after they had done their routine. This is how they responded to our questions about activities week.
'I love activities week'
'I normally don't like dance but this has made me rethink'
'I can't wait to see what they have to offer next year'
This is only a small sample of activities week and you can see how much the students enjoy it and the new skills they have!
Article by Year 8 students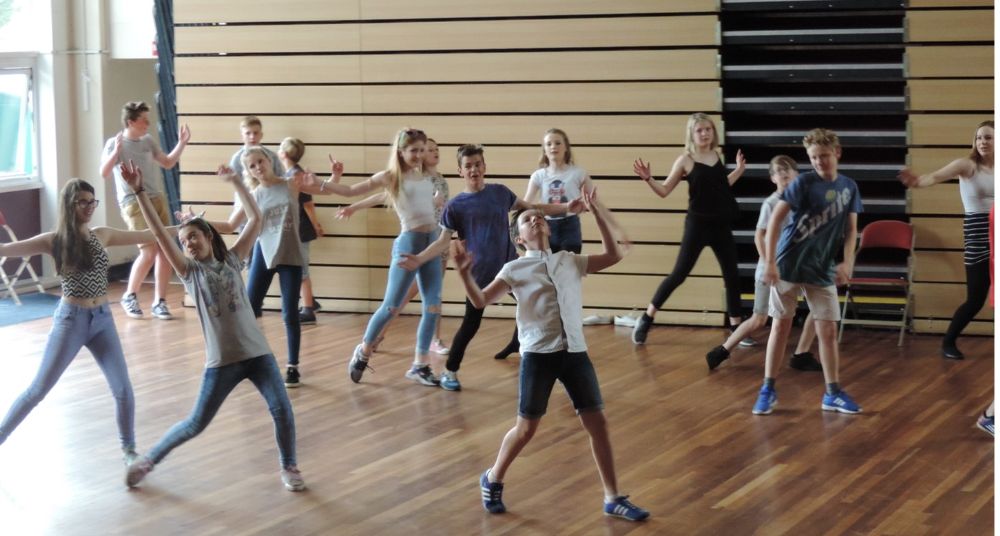 * * * * * * * * * *
What people think about activities week at Selby High School
In MA2 the students were making heads out of tights and cotton. They look realistic when they are finished but some of the techniques were difficult to master. In SC2 people were making goo that melted in your hands and then when you messed about with it, it went back solid. Wow! We saw students playing Pass the Bomb in amongst other fun board games which are designed to improve literacy skills. This is just a snapshot of what is happening in school this week. We have enjoyed being reporters this morning.
Article by Jamie Elliott, Jack Rudderham & Joe Barran, Year 7

* * * * * * * * * *
One Y8 group were doing drama games in English. A lead vampire had to decide on minions to take over the peaceful village of Selby. The town's people had to guess the head vampire and stake the person they believed to be the culprit. They all had to contribute ideas to get the answer, they all had to listen carefully and they all had to decide who they felt was the head of the tribe. People said that they were enjoying the activity as it was unexpected, they didn't know what was going to happen and the spooky music made it very atmospheric. An excellent activity!