2015 Lego League Challenge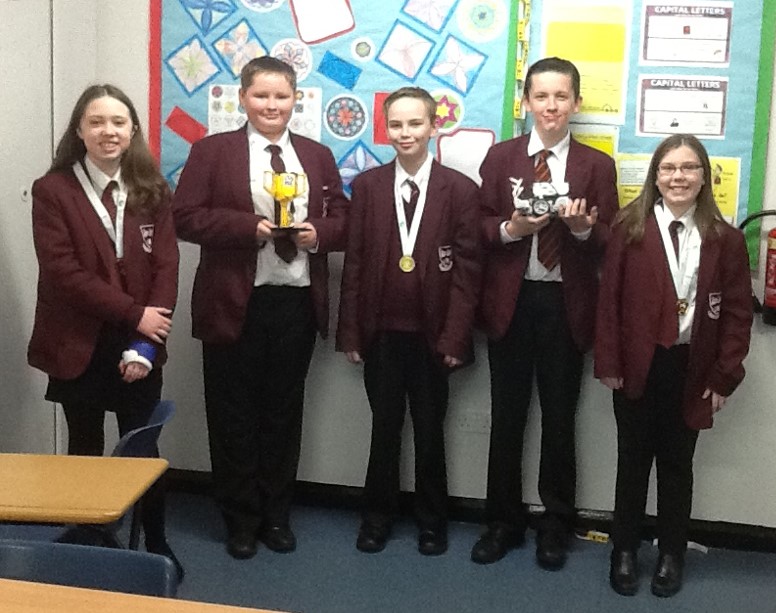 On Wednesday 16th December five pupils from Selby High travelled to Bradford University to complete in the 2015 LEGO League Challenge. This is a STEM competition encouraging pupils to think like scientists and engineers. The theme of the competition was recycling and reducing waste.
There were three parts;
Programming a LEGO MINDSTORMS robot to operate Lego models they had built that can salvage, demolish, compost, sort, recycle and clean up waste against time. The students were successful in 4 tasks in each of their 3 rounds of matches, ranking 5th out of 18 schools.
Researching a novel way of recycling waste and delivering their ideas as a presentation to an audience. Our pupils chose innovative uses to reuse abandoned lifejackets.
Lastly the pupils had to work as a team to complete an unknown challenge. This involved them transporting a tennis ball balanced on a ring, from the floor onto a spike using only six pieces of string.
They worked fantastically together in the team work challenge and were the only school to complete the challenge and Selby High won this part of the competition. They were presented with a super Lego trophy and medals.
Congratulations to the following pupils Sophie Middleton, Emily Jane Lock, Joe Barran, Keiran Wood and Leon Pipes.
Many thanks to Thomas Butcher and Ryan Wright for their help in preparing the team for the competition. Also many thanks to Mr Dave Gill for driving us there.