Modern Foreign Languages
Name : Miss R Harwood
Position : Curriculum Area Leader
Email address : rhd@selbyhigh.co.uk


The MFL department's aims:
Our vision is to open students up to other cultures whilst allowing them to develop a love for languages. To achieve this we intend to make language learning a liberating and enjoyable experience that is relevant, engaging and accessible to all.
We aim to promote not just linguistic, but transferable skills which will prepare students for GCSE and life beyond Selby High School. Outside of the classroom we intend to provide extra-curricular opportunities that will enrich their experience of studying a language.


Spanish at Key Stage 3
At Selby High all year 7 students learn Spanish which will allow them to develop their language learning skills and provide a sound and basic awareness of foreign language should they travel abroad in the future.
Through years 7 and 8 students learn Spanish through a variety of relevant and engaging topics that closely follow the new KS3 framework for languages. The department has, over the past few years, purchased interactive resources for KS3 and is continuously upgrading the schemes of learning to knit neatly with and follow on from any language-learning skills that students may have acquired through learning a language at Key Stage 2.
Resource Material:
Each MFL classroom has an interactive white board which encourages active learning of the language. The MFL department also boasts a class set of iPads, mini white boards and a range of home-made and bought-in teaching aides to bring our teaching to life. We also occasionally use the "Mira" textbooks.

Some websites we use often are:
www.linguascope.com (yearly subscription – your child will be given login details)
www.languagesonline.org.uk (no subscription required)
Topics covered in year 7 are:
Unit One: Introduction to Spanish language
greetings
introducing yourself, finding out about other people
numbers
classroom language
school equipment
classroom facilities
Unit Two: Family and friends
Talking about family life
Talking about other people
The Spanish royal family
Describing others – physical and personal descriptions
Pets
Saying what you study
Giving opinions about your school subjects
Describing your teachers
School uniform
Using the future tense to talk about your plans for the weekend
Producing an iMovie about your school
Topics covered in Year 8 are:
Unit Four: house and home
Talking about origins and nationality
Describing a house
Talking about your bedroom
Saying what you do in your free time
Creating a "for sale" poster.
Using the future tense to talk about your dream house
Cultural project: EUROFEST – travel and tourism
Saying what there is to do in your town
Giving directions to tourist attractions
Saying what you can do in your town
Cultural project: EUROFEST – product design
Designing and marketing a product in Spanish
Talking about your free time
Saying what sports you do
Learning what Spanish celebrities do in their spare time
Using the past tense to say what you did at the weekend
Using the future tense to say what you are going to do in the summer holidays
Create a radio broadcast to air in Spain about free time habits in the UK
Saying where you live
Saying what there is to do where you live
Talking about the weather
Making plans in your local area based on the weather
Languages at Key Stage 4
Current year 7s (who joined us in 2016) will be expected to continue studying Spanish at GCSE. We took this decision due to the increasing need for language skills in the working world. We have strong links with the Routes into Languages programme at Leeds Beckett University and dedicate a series of lessons to "languages matter!" in year 8 which allows us to show our students how meaningful languages are post-16 and allows us to justify why we want them to study a language for the whole 5 years they are here.

Students are given constant guidance on how to develop and improve their key skills to learn languages such as the ability to communicate clearly, being confident about speaking in public, using problem solving strategies, applying logic and being creative. We believe that through giving them these core language skills they have the advantage of being more prepared for their next steps after GCSE in a wide range of post-16 routes and future careers. In addition, these skills are useful in all other subjects on offer here at Selby High School.

We also encourage spontaneous speaking and writing in line with the new specification for the GCSE which will be taught from 2016 and examined from 2018. We also cater for both foundation and higher tier learners.
The department has chosen the Edexcel exam body for all languages as the topic coverage contains more approachable content that young people can relate to. The department works closely with the Edexcel framework, scheme of work and resources, so students are prepared fully for their assessments. The topic strands are:
Media and Culture
Sport and Leisure
Travel and Tourism
Business, work and employment
An overview of the new specification qualification (2016) is below; however should you wish to read more detail on the course please visit the link here and select the relevant language:
http://qualifications.pearson.com/en/qualifications/edexcel-gcses/modern-languages-2016.html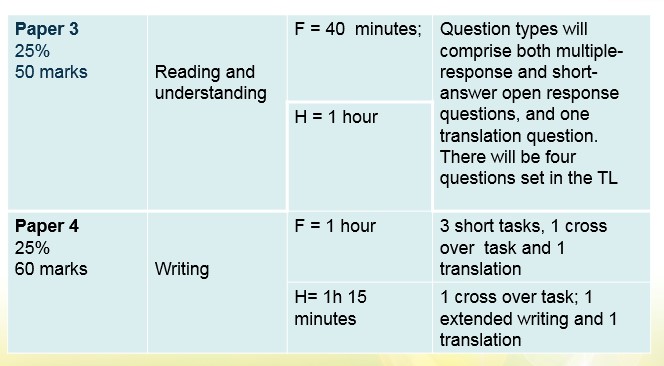 We believe that learning languages at KEY STAGE 4 should not neglect engagement and enjoyment even though the pressure may be on. We want lessons to be interactive so students can work together, draw on each other's strengths and give informative peer-feedback.
Regular informal assessments also allow students to track their own progress closely so they are aware of what they may need to do to improve. This is particularly important given the removal of controlled assessment now that the exam boards are now moving to examining all four skills at the end of the GCSE course.
For those who find they have a flair for language learning and want to learn another in addition to Spanish they can opt to start a condensed beginner GCSE in French or German as we have the relevant qualified staff to be able to offer this. This will be an intensive course that whilst extremely rewarding, will require a level good level of commitment, organisation and motivation to succeed.
For students who are due to be examined in summer 2016 and 2017 (both French and Spanish) the make-up of the course is quite different as they are still working from the old specification while this phases out. You will have been given information on this at the year 8/9 Options Evening when your child was in that year group but should you require any more at this time, please don't hesitate to contact the Curriculum Area Leader.
Clubs / Extra Curricular Activities, visits and trips

Barcelona visit Y8/9 in activities week
Some years ago the languages department introduced the four-day educational visit to Barcelona during the school Activities Week programme. Spanish language and culture are brought to life when students are given a true opportunity to use them in their proper environment. Getting bigger each year it is now one of the most popular educational visits abroad that the school offers to year 8 and 9 students, filling up in just two days! ¿A qué esperas?

Eurofest Competition – Y8
Each year, year 8 students can choose to take part in an international foreign language competition focusing on travel and tourism and business and enterprise. Entries are worked on in a Spanish lunch-time club and then a semi-final is held over one lunch time here at school. Then, the most successful candidates go on to represent the school to compete against other local schools at the Eurofest final held at Selby College.
By either designing and marketing a product they have created in Spanish or designing a tourist information stand in Spanish students have been able to show off their ideas to a panel of judges, local press and local dignitaries such as the Mayor and school governors.
Selby High students have come back to school as the winners of a number of categories in previous years and we hope to keep this up in June 2017.

European Day of Languages (26th September) and Hispanic Day (12th October)
A variety of form time activities are planned for these two special days. In September 2016 students competed in a Spanish movie title themed Puzzle of the Week where their popular culture knowledge and translation skills were put to the test.

Inter-school Spelling bee
Selby High School stormed to victory with a clear win over Barlby High in June 2016 and we were proud to bring the trophy back to its rightful place! We are looking forward to hosting students from Barlby High School in summer 2017.
Language Ambassador visits
We have strong links with the Routes into Languages programme at Leeds Beckett University and dedicate a series of lessons to "languages matter!" during year 8 including inviting a real-life languages students to come and present to the students.
GCSE master classes at Selby College
Selby College were able to offer 7 more able Spanish GCSE students 3 master class session in the 2015-16 academic year. These were extremely successful with great feedback from our students and also the staff at Selby College who gave up their evenings to run the sessions. We hope to make these a regular extra-curricular feature of the Spanish and French GCSE.