Royal Literary Fellow, John Siddique, visits Selby High School for Poetry Workshop
Sat barefoot on the front lawn of Selby High School under the shade of the trees, two groups of Y7 students were treated to a poetry workshop with John Siddique, Royal Literary Fellow at York St. John University. During the two day workshop, students were given a taste of John's poetry from 'Recital – An Almanac' and explored their own creativity by developing and reciting their own poems to the group.
Charelle Finister, who produced some wonderful work and rushed home to carry on writing, said "I've had a great day working with John – when can he come back again?" All the students involved loved working outside the classroom to develop their writing and enjoy time to take in the world around them and share memories.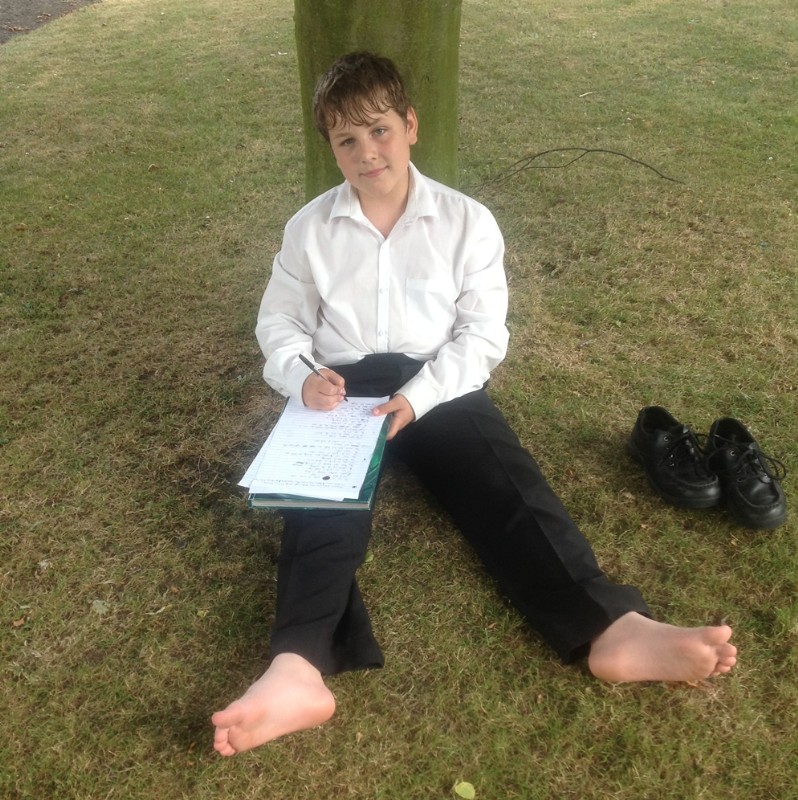 Sing – your heart's content
The soul through the pitch and lyrics
The soul revealed.
Sing – sound love, compassion, whatever you call it
It's music from the soul
The voice of a life freed.
Sing – the light comes blaring
The darkness to cripple the pain
The voice brightens things.
Sing – sadness gone forever, well hope
The voice still blares today
To keep the peace
To keep the solace.
Sing – the souls last song.
By Quinn Haywood
All students received a personally signed copy of 'Recital' and a poetry notebook to continue with their creativity after the event. Since then, students have continued writing and produced some wonderful entries for the Foyle Young Poets Award who awarded us the title of Applauded School last year. We are hoping to receive some good news when the judging takes place!
John Siddique, who follows @EnglishSelbyHS on Twitter, sent the following tweet out to his 1,597 followers:
@EnglishSelbyHS is one of the most forward thinking high schools. They should do training for others in how to invest in the lives of children.
We are excited to announce that Royal Literary Fellow, John Siddique will be back with us again this year for a six day writing project starting in October and ending in July. This will include visits to Leeds City Art Gallery, Yorkshire Sculpture Park and even the seaside! We are very much looking forward to having John Siddique as our very own poet-in-residence this year.