Looking for relatives in WWI buried in France and Belgium
Over the next few years we would like to build up a comprehensive list of soldiers who died in WWI from Selby, and the surrounding area, and/or are relatives of present and past students. We have been able to visit a few sites in the past where students could lay wreaths and we would like to continue this as the centenary begins. If you have any knowledge of family members who fought and are buried in France or Belgium please do get in touch. We would like to try and visit as many as possible over the next few years as part of our own remembrance of WWI. It is an excellent opportunity for families to reconnect with their past and students have benefitted enormously from the experience. This year we are going to France and Belgium on the 14th July. If you have any information you could offer please contact:
Sarah Burgess - sb@selbyhigh.co.uk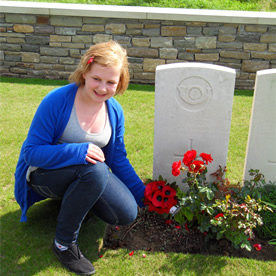 Pictured left ex student Nicole Lythgoe leaving poppies at the grave of her great grandfather.
Pictured right ex student Georgia Holden Burnett finding a relative on the Tyne Cot memorial wall.