Greenpower F24
Team Selby: Greenpower F24 Project
Formula 24
We have been incredibly fortunate to have been given funding by Drax to enable us to participate in the Greenpower F24 Project. This means that our students will have the fantastic opportunity of being part of our very own Formula 24 racing team which will participate in the Greenpower racing series that will take them and our racing car, 'Washington Pacer', to tracks all over the country.
This is an exciting opportunity for students, inspiring engineers and racing drivers of the future – a chance to be on a real-life racing team, racing at renowned tracks all over the country. It's an experience that will never be forgotten and will support students in learning valuable engineering & workforce skills, including:
Computer Aided Design using Siemens professional software
Mechanical engineering
Basic electricity
Basic aerodynamics
Basic energy conservation
Basic manufacturing techniques
Teamwork
Tool basics
Project management
Marketing, public relations
Soft skills
What is Formula 24?
Formula 24 has come about to inspire young people to become engineers by presenting the industry as an interesting and relevant career choice. The main idea is for teams of students between the ages of 9 to 25 to build and race their own electric powered race car at top racing circuits around the country.
Who can take part?
Open to anyone from Years 9 and 10, the teams will be responsible for every aspect of racing, from design to building, maintenance and racing of their electric cars.
What do the students have to do?
Students work as a team to build and then maintain a Formula 24 racing car that has to comply with technical and sporting regulations set out by Greenpower. Members of staff oversee the build to help guide students on the tasks they must undertake but the work on the car is undertaken by the students. The cars are built from kits, allowing students to design their own bodywork based on their own designs. There are strict regulations provided with each kit car pack in order to ensure the safety of the drivers and give young people an insight into real world engineering.
As well as committing to the team build sessions held during lunchtimes and/or after school during the week, students would also need to commit to attending race test days and race events throughout the year which are held on weekends.
Thank you to our sponsor, Drax Power Station, whose generous support has enabled us to buy and make race ready an 'F24 category rolling chassis kit' to compete in the 'Greenpower electric car challenge'.
The challenge will see a team of Selby High School students design and build the car using some of the latest industry-leading CAD software.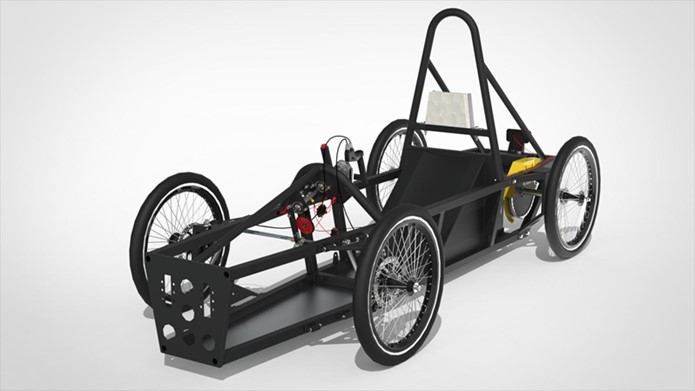 How to Join / Membership Requirements:
Year 9 or 10 students who are interested in becoming a member of Team Selby must fill out an application. Applications will be considered and successful applicants notified.
Team places are limited to 24 in total with students assigned to a sub team (Team Washington or Team Pacer) each sub-team with have students assigned to the different roles of driver (5), pit crew/CAD design (5), and media/marketing (2). All students within the teams will be involved in the initial build regardless of their team role.
Pupil premium students will be given priority for 6 of the team places.
Click here to access the google form to apply
Watch this space for updates and to keep a track of how the team progresses.


Greenpower
Greenpower Education Trust is a UK based charity which gets young people enthusiastic about science and engineering by challenging them to design, build and race an electric car.
They supply age appropriate Kit Cars, which can be built in school, college or elsewhere and raced at motorsport venues at Greenpower organised events.
For more information see the Greenpower website: https://www.greenpower.co.uk/


Team Roles
Although this project is predominantly design and engineering based, other interests and skills are required.
Pit Crew/Drivers
Engineering
Electronics
Aerodynamics
3D CAD Modelling
Media/Marketing Team
Graphic Design
Photography/Video Production
Social Media (Facebook/Twitter/Youtube)