Frantic Assembly SCHOOL VISIT
Frantic Assembly are an internationally renowned physical theatre company whose inimitable style has long delighted audiences with their bold, collaborative and dynamic approach.
Recently, Year 10 and Year 11 students across both Drama and Performing Arts were invited to work with a specialist practitioner from 'Frantic Assembly', helping students to experience how a professional company creates new material. This has been invaluable to students who are currently working on 'devised' modules and provided them with a different perspective as well as a bank of skills to take away when developing their own pieces of Drama.
As a school we want to promote physical confidence across the Performing Arts Curriculum and inviting Professional Contemporary Practitioners in to work with students, helps encourage them to be brave and bold with the material they are making. Felipe (our Frantic Assembly Practitioner) brought a new perspective and introduced the students to the 'Building Blocks' method which is used by Frantic Assembly across all their development of devised performance material.
Following the workshop students reflected on how the Frantic Assembly technique gave them a new perspective on Physical Theatre and how this is used in performance. Here's what the students had to say following the workshop;
'It has made me think about more abstract ideas when devising, instead of using realism in our performance' – Charlie
'This workshop has completely changed my opinion on Physical Theatre forever.' -Ami
'Very interactive and hands-on which makes it very fun!' – Ami
'This workshop boosted my confidence' – Sasha
'A fantastic confidence boost!' – Grace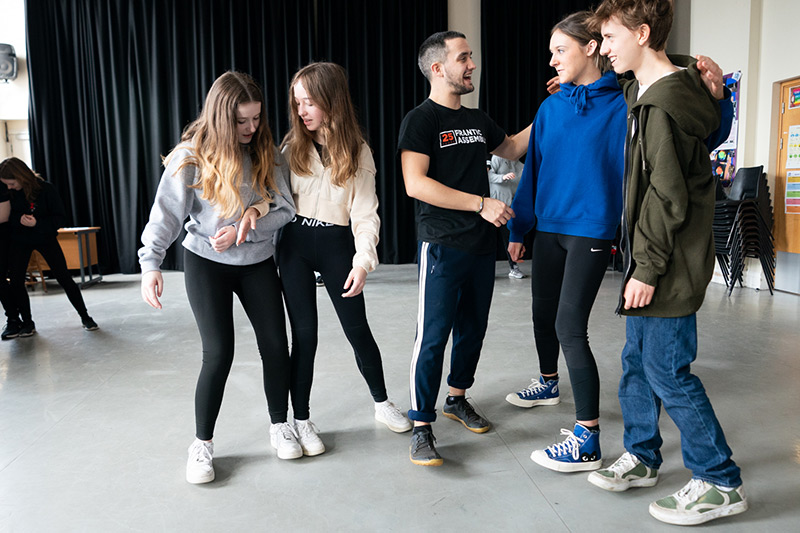 'I learnt new drama skills, got lots of ideas for devised, views about physical theatre changed and I developed trust with my partner'. – Catie
'It was a great experience that will help me with my Drama GCSE course.' – Abbie
'It was an amazing experience; I wish I could do it again'. – Abbie
'I enjoyed putting complete trust in my partner and letting them take me anywhere with my eyes closed' - Joe
'It helped me build my confidence by trying something completely new.' – Lizzy
'Super imaginative, never a dull moment in the workshop.' - Anon