BBC School Report 2018
Selby High Talent Show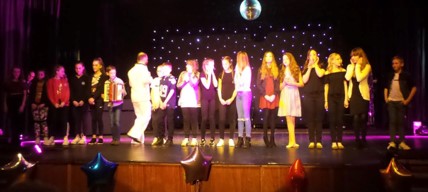 The time has come. Selby High School Talent Show has come around again! It is the most talked about event all year. Within two days all of the tickets had sold out clearly showing it's increasing popularity with the student body. This was very well received as the Talent Show performers this year were spectacular.
At 7:30 the Talent Show officially started. The anticipation in the audience was palpable and no one was disappointed. Singing, dancing and a whole range of other acts came with the lower school. The intermission brought with it a room filled with excitement and by the time the Upper school was finished, everyone was impressed by the all of the superb acts.
"I thought that the show was great, the quality and arrangement of all the acts were very strong." said Mr. Hinchliffe, Principal of Selby High School. " It was a very good set and a lot of time and effort was put into it, not to mention the effort of the staff responsible were very organized."
The overall quality of the performers was high. The multitude of singers all had great talent and the other types of acts such as Guitar, DJ, dancing and comedies were also very enjoyable.
The theme this year was based on the hit television series, 'Strictly Come Dancing', with the show being named 'Strictly Come Talent'. Assistant and Deputy Assistant Mr. Sinclair and Miss Smith both performed an entertaining dance routine together. This was not intended to be a comedic performance however it ended up as one of the most hilarious performances of the night.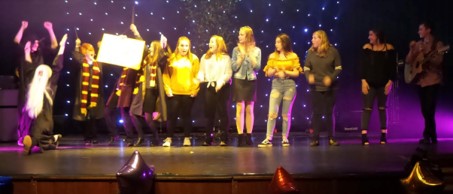 However, amongst all these amazing acts the winners of KS4 were a group of friends performing something they loved. In this case Harry Potter.They called themselves The Potter People and won in upper school, amazing the judges and audience with their entertaining comedy performance.
"I thought it was fun but there was a lot of waiting since we were the last act." says Phil Charles-Green, who starred as Ron Weasley in The Potter People.This waiting surely built up nerves, but this did not show in their comical and engaging performance.
The winner of KS3 was Izzy Robey stunning people with her rendition of 'Black Horse and the Cherry Tree' her confidence and ability shined through stealing the hears of the audience and judges alike.
Overall, the talent show was a resounding success, showcasing the range of talent Selby High has to offer. Singers, DJs and dancers alike took to the stage and were greeted with resounding cheers throughout the whole night. An excellent performance by all.
By Ella Nicholson, Scarlett Johnson and Caitlin McNeil
Equal opportunities at Selby High

Equal opportunity is incredibly important. Without it, you wouldn't be able to achieve your full potential due to trivial matters like your gender or the colour of your skin. But do we truly have it in school? Personally, at Selby High School at least, I believe that we do have equal opportunities and that it is a tremendously inclusive school that gives every student the same chances. In my experience, Selby High will do whatever it can to make sure that you are achieving your full potential and makes sure that, no matter what your race, gender or sexuality, you have the same options open as everyone else. For example, when applying for the position of Prefect, it's open to everyone and encouraged. It isn't just the white male students or those achieving higher than 7s in all subjects with 100% attendance that are allowed to be Prefects. It is everybody.
The school does not only help students achieve everything they can, it's also very inclusive of teachers of different standings. For example, Miss Gibson has been working at the school for 3 years and is the course Academic Lead of Religious Education and Life Development. She is a female teacher who is quite young and yet she is still the Lead of two departments and has been for two and half years. This shows just how inclusive the school is towards not only students, but teachers as well. During interview she said, 'I have been provided with training opportunities and a line manager. I've also been provided with support as the staff board listen to all my suggestions and has helped me plan lessons when I was first starting out. I feel like I have a voice.' This was in response to being asked how the school has accommodated her and her disadvantage of being the only person in her department. Also, she stated that 'I do have students in my class with disadvantages and I'll often sit with them and offer differentiated worksheets or equipment to help them learn.' This was in response to questioning of how she helps students in her class with disadvantages, so that they may achieve their full potential and provide them with the same opportunities as those with more advantaged positions. It's not just those who are confident who can achieve, it's not just those from a good background. It is everybody.
Students within the school that I managed to talk to also agreed that the school is a very inclusive and accommodating place. They voice their certainty that the school helps them achieve their own personal goals and leave school with grades to be proud of.
'I am offered help and assistance in PE so that I can still do everything the other students can' said Scarlett Johnson, who suffers from plantar fasciitis, one of the most common causes of heel pain. It involves inflammation of a thick band of tissue that runs across the bottom of your foot and connects your heel bone to your toes. This often prevents Scarlett from doing certain activities in PE without assistance - assistance that the teachers are happy to give.
'I've been given a medical card so that I can get out of lessons. I am also given catch-up work if I miss a large portion of the lesson' spoke Lauren Noble, who suffers from unspecified swellings. This issue often causes her to need to leave lessons to self medicate and consequently miss large parts of them. Teachers help this by allowing her to leave yet also helping by allowing her catch-up work.
Students with types of disabilities like dyslexia are often seen given laptops to help them to read and write more easily. This is because computers generally contain dyslexia-aware and dyslexia-friendly fonts that they can read more easily, whereas textbooks might not.
Also, students who either miss lessons or just feel that they need extra help with a subject are offered a Period 6. Period 6 is a session in the library, in which they can do revision with the help of a teacher rather than just having to do it on their own and possibly struggling if they don't understand something.
Another reason that Selby High is inclusive is the fact that they have taken on immigrants from countries suffering from poverty and war that speak very little English and have managed to accommodate them and help them settle into their new lives in Britain. By providing them with a welcoming and safe environment at school, this has helped them learn English as well as provide them with an education that they might not have had access to in their own countries.
In conclusion, it is obvious that Selby High is an incredibly inclusive and accessible school that provides each and every person within its walls with equal opportunities and chances to excel. No matter your race, gender, background or ability, you can learn at Selby High and leave with an education you can be proud of. It isn't just someone who can fit into a particular mould that can achieve and learn at Selby High. It is everybody.
By Philippa Charles-Green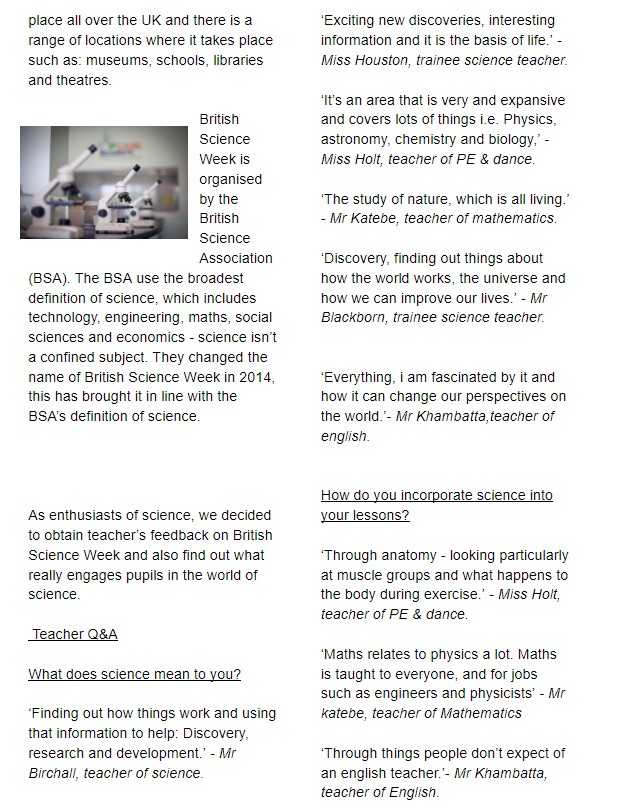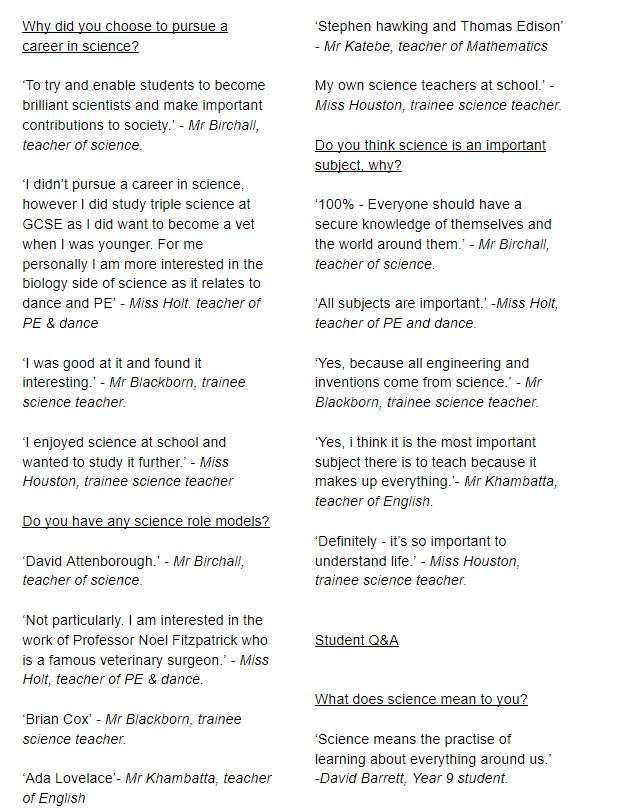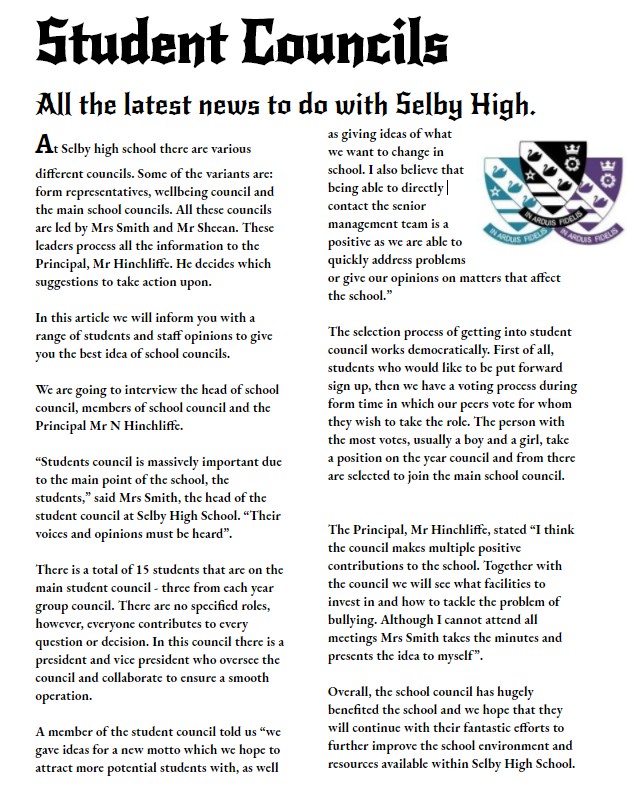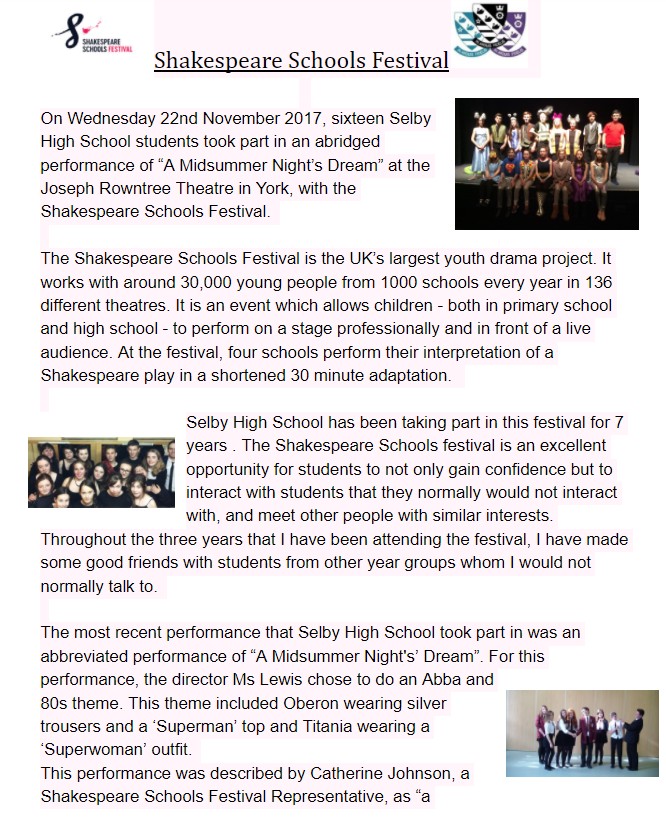 BBC School Report Update
This is BBC news at 2 o'clock and the biggest headlines are:
How have British citizens responded to the appalling weather in the recent weeks ?
Harry Kane's ankle injury leaves England and Spurs fans in shock as he is set to have the rest of the season on the sideline.
Beast from the east returns!
Beast From The East
The icy blast from the beast has created lots of travel disruption from plane delays to road closures , yellow (snow and ice) and amber (strong winds and lots of snow) weather warnings and finally schools have been closed temporarilly because it is unsafe to travel and is very glacial.
This blizzard came across from Russia and was caused by strong winds , drifting snow .Wind speeds rose up to 60 mile per hour and snow elevation was 50 cm in some sections of the UK.
We interviewed Mr Bowell (Head of the English Department at Selby High School) about the recent outbreak of snow and how he was affected.He answered "I woke up at 06:40 and looked out my window ,the streets were gridlocked and enveloped in snow.I cleared all the snow off the car and set off for work.After an hour of driving i only completed 200 yards out of a 25 mile journey.Then I decided to abandon the road as it was freezing and come back to the car later when the traffic was gone.
Injury crisis
English international Harry Kane ,24, suffered an ankle injury during the game on Sunday evening versus Bournemouth.Kane and Begovic collided whilst both of their intentions was the ball only.Kane's foot got trapped in between the palm's of Begovic which caused his ankle to dislocate from its original position.
Unfortunately for Spurs fans and England fans, Kane might not feature again this season and might struggle to get his fitness back before The World Cup starts as the injury,to the ankle, is severe.
We interviewed Mr Sheehan (a teacher of physical education) about how do you think England will cope in the "World Cup"
He answered "I think the world cup will be positive for England because if Harry Kane feels better and can get up to full fitness he will be fresh for the world cup"Also he believes England will be able to win the group stage but be knocked in the quarter final stage.On the other hand, he believes it is unsafe to travel from the recent events in Russia but if there is lots of police and security it will safe.
Beast from the East 2.0
The Beast From The East could return this weekend and bring more glacial and frosty features. The met office has warned northern and central parts of the uk because of the risk of snow.Also uk is hit by flood warnings the effects of the Beast From The East are that there is a lot of crashes and more people will be displaced.