Please click on image below for a selection of recommended reads for each year group.

Improving literacy levels for all students at Selby High School is a priority. Literacy skills are essential for our young people to reach their full potential both in school and beyond into further education and the world of work.
Reading a wide range of different text is one way of enhancing literacy skills, we encourage this in school in a number of ways, through activities in the different curriculum areas for example and by providing all tutor groups with the daily 'I' newspaper to encourage both reading and discussion of topical subjects. To enhance and support the work done in school please encourage your son/daughter to read for pleasure by borrowing books from our LRC and to read these regularly.
Please see the links below for suggested age appropriate reading lists as well as a selection from a range of genres that are very popular at the moment.
Students can click here to access the 12000 books that are availalbe to read in the LRC through Eclipse.
Staff Book Reviews
The First Fifteen Lives
of Harry August (2014)

by Claire North

El Alquimista
(The Alchemist)

by Pablo Coelho

The Boy That Never
Was (2014)
by Karen Perry

The Blood of
Olympus
by Percy Jackson

Elizabeth is missing

Emma Healey

Reviewed by
Mr Lewis,
Deputy Headteacher

Reviewed by
Miss Harwood
Teacher of MFL

Reviewed by
Mr Lewis,
Deputy Headteacher

Reviewed by
Mrs Butler
HLTA

Reviewed by
Mrs A Hindle
Ask a Librarian: Your guide to what's in the LRC
Click on image for a full guide to what's in the LRC
Kindle App
Access to over 1,000,000 books plus hundreds of
newspapers and magazine.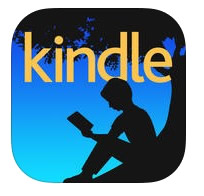 Literacy Evening 2016 Resources
Reading Self Assessment Bookmark
Magazines, Journals & Newspapers in the LRC
| | |
| --- | --- |
| All About History | Making |
| Animal Action | Molly Makes |
| Booked | National Geographic for Kids |
| Cadet | Sci-Fi Now |
| Caravan & Camping | Selby Times |
| Christmas Magazines | Sew |
| Crafts | Simpsons Magazine |
| Digital Photography | Society Now |
| Empire | Sound |
| First News | Teen Vogue |
| Geographical Magazine | TES |
| How is works | Wingbeat |
| I | WRD About Books |
Useful Links for students
Useful information for parents
Every day we should hear at least one little song, read one good poem, and, if possible, speak a few sensible words.
Johann Wolfgang von Goethe
As the quote above suggests, learning is so much more than what happens in the classroom. One of the most effective things you do to support your child's literacy is also one of the easiest: talk to them!
If you want some tips about how you can have a more focussed conversation with your child to support their learning, have a look at the activities suggested below. There are also some nice activities you can easily do at home that will encourage and motivate students to use (and improve) their literacy.
Useful Links for staff