National Apprenticeship Service- Being an apprentice gives you the opportunity to gain a recognised qualification and develop professional skills, whilst also earning a salary. Click the Apprenticeship link to find out everything you need to know about Apprenticeships, from the qualifications involved, the areas in which you can work and the different levels available. You can also search for available Apprenticeships.
Current available apprenticeships are detailed below, but please click on link above for full details.

| | |
| --- | --- |
| TITLE | CLOSING DATE |
| Civil & Electrical Engineering, Atkins, Yorkshire & Humber | 29th January 2019 |
| Engineering, Heineken Ltd | 3rd February 2019 |
| Nestlé Supply Chain, Nestlé Ltd | 15th March 2019 |
| Warehouse Operative, Hi-Wire Ltd | 7th June 2019 |
| Software Tester, Howdens Joinery | 6th July 2019 |
| Hairdressing to become a Hair Professional, 2S Co | 30th August 2019 |
Current NLTG Apprenticeship opportunities
You know Nestlé. But you may not know about the delicious range of Apprenticeships we offer. Welcome to the Nestlé Academy.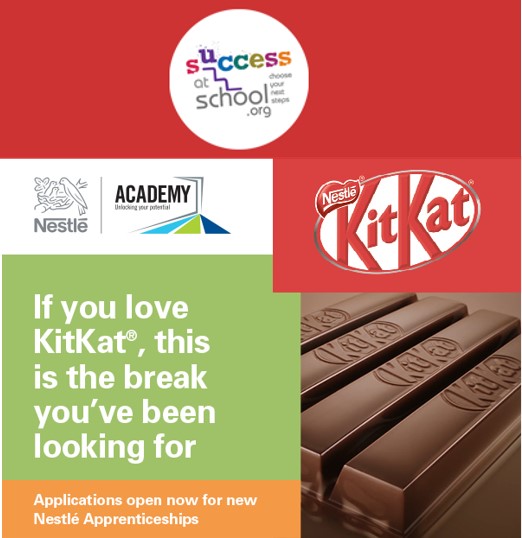 Nestlé Academy

We're proud of our amazing, globally recognised brands, and the variety of projects we deliver at Nestlé means you'll have every opportunity to develop your skills and gain real experience with the world's largest food and beverage manufacturer.
We thrive on the energy new talent bring us, and look to inspire and educate every single person that joins us through one of our fantastic Academy Apprenticeships. So, if you want to gain a debt-free, recognised qualification, combined with workplace training and a real role in our business, our Academy Apprenticeships are for you.
Applications are now open for the following Apprenticeships. Click on the role that's best for you to find out more and apply.
Available at sites in York, Fawdon, Wisbech, Tutbury & Sudbury
Available at sites in York, Fawdon, Wisbech, Tutbury & Sudbury
Available in York
Available at sites in York, Fawdon, Wisbech, Tutbury & Dalston
#NestleneedsYOUth

HETA
Apprenticeship Prospectus
Flyer
Trade Sheets
Ability Test Takers Guide
Please click here for the North Yorkshire Apprenticeship flyer
Please click here for a letter from MP Rishi Sunak 'A new way to take on an apprentice'
North Lancs Training Group Ltd - Click on link to view a list of Apprenticeship vacancies available in the Yorkshire area. If there are no appropriate vacancies for your in one of the sectors they cover, send in an application form and they will find a vacancy for you. For further information, visit their site, NLTG.co.uk.


BDO is a global professional services firm which helps other companies with things like tax and auditing. They have four school leaver programmes to choose from: Tax, Auditing, Advisory and Outsourcing. They also have a Summer School work experience programme to help students gain skills and experience by working on real projects.


IT company IBM is offering apprenticeships in technical roles such as Digital & Technology Solutions, as well as Business. Apprenticeships are at advanced and higher levels, with degree apprenticeships giving you the chance to work towards a university degree.
Dentons, the world's largest law firm, offers a degree apprenticeship that gives you the opportunity to qualify as a solicitor and be awarded an LLB, meaning you get the qualifications you'd normally gain after finishing uni on a salary up to £20,000. You'll be working in areas such as Banking and Finance, Real Estate, Corporate and Dispute Resolution.
Investment2020 work with employers in the finance world to train young people in high-skilled jobs. Jobs are available with a host of big employers, but whoever you work for, you'll be part of a bunch of young finance whizzes who you'll train alongside as you begin your career.