Selby High School Values & Ethos including British Values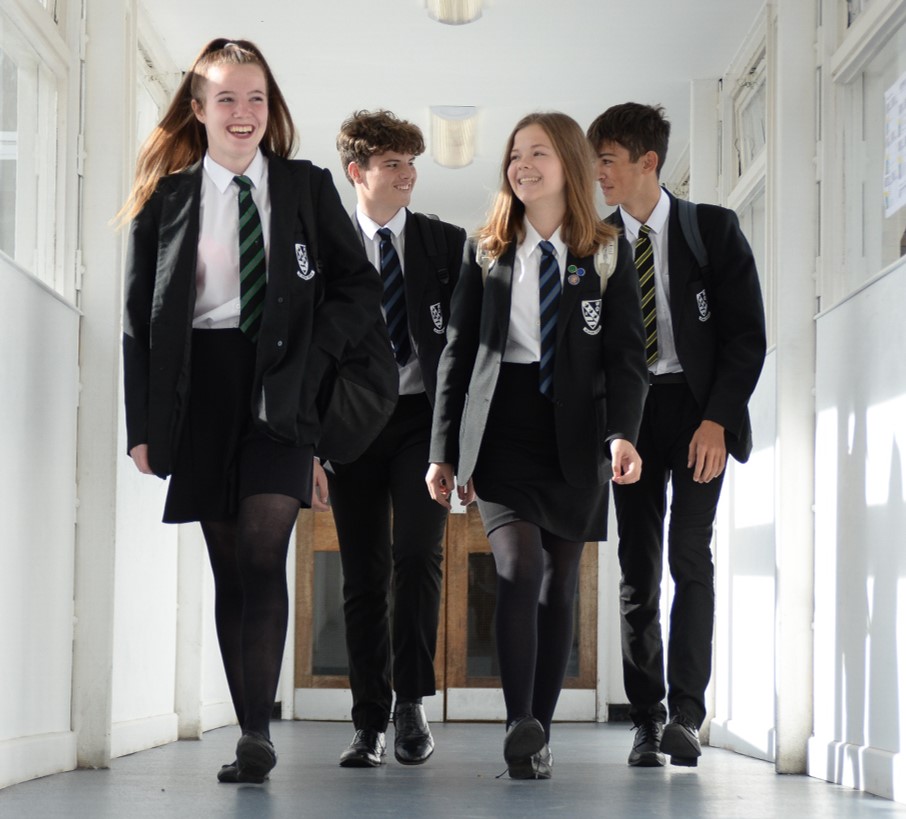 Our goal is success for everyone through encouragement, teamwork, friendship, trust, mutual respect and an enjoyment of learning. We aim to create an environment where we all understand that by supporting each other and working together, we achieve more.
We are a learning community, which embraces opportunities for all our learners by securing high quality learning and teaching. We aim for all our students to achieve their full potential both as students at Selby High School and as considerate global citizens of the future. We always aim to be the best we can be, nothing less will do.
Our School Aims are:
to provide inspirational learning through exceptional and stimulating teaching
to provide a personalised curriculum that meets the individual needs of all students
to encourage our students to take responsibility for their own learning, achieve their full potential and enjoy their learning
to pursue excellence and celebrate achievement
to allow students to discover that they are capable of more than even they themselves thought possible and success can be for everyone
to help students to develop the whole person intellectually, physically, economically, culturally, socially, spiritually, morally and be part of a healthy community within which they feel secure, happy and valued
To enable students to reach their potential by coping with the normal stresses of life, to work productively and fruitfully and are able to make a positive contribution to the life of the school and community
to encourage our students to understand equality and have a respect for all religions, cultures and ways of life
to actively promote community learning and the notion that learning is life-long, together with developing close links with the local community
to build a capacity to develop appropriate skills for the future and to be mentally prepared to except change
to prepare our students for adult life and employment in a rapidly changing technological world; developing a first-hand understanding that by working together we achieve more
to encourage risk taking in our quest to improve learning and teaching
to develop and maintain a close partnership with parents'/carers'/guardians', ensuring their support for, and confidence in the school
Our School's Values:
We value: honesty; hard work; success; supportiveness; self-evaluation to generate improvements; inclusiveness; good examination results; self-belief; self-discipline; taking responsibility; innovation; respect for everyone and a belief in the limitless potential of students
We are a school that values the social, emotional and mental wellbeing of students and staff
We want to work in a school where individuals show respect to others, are sensitive to the feelings of others, are aware of how their actions will affect themselves and others; that is well led and responds to the needs of its stakeholders
We are a learning school where we attempt to:
Encourage all members of our community to continue to learn by constantly striving to improve the learning experience for our students and to provide inspirational teaching.
Instil creativity and develop an understanding of the contribution that the arts play in engaging, inspiring and exciting students with regard to their own personal development.
Encourage a sense of intrigue for science that enables students to develop knowledge and cultivate a scientific understanding, formulate and foster an inquisitive approach with regard to future developments.
Help our students to secure high levels of personal achievement and foster their self-belief, independence, resilience, character building, relationships and self-esteem.
Encourage all students to embrace and contribute to a healthy school community, both mentally and physically.
We are a school which believes:
in taking risks in order to improve learning and teaching
that constructive feedback to students on how to improve is crucial to them making good progress
that students learn best when they feel safe and are enjoying themselves
that students need to understand how they learn in order to be highly effective learners who can take responsibility for their own learning
that a hard-working, rigorous approach to study leads to success
that success nourishes our students - they can because they think they can
Our vision is of a school that:
is truly student-centred;
places learning and teaching at its heart;
has the highest expectations of its students;
celebrates the unique talents of all its students;
listens to students views;
ensures its students are safe and secure and has an atmosphere of mutual support and respect;
looks to the future without forgetting to enjoy the experience of today.

Please view our SMSC page for examples of where our aims, values & ethos can be seen
.
British Values:
Our school reflects British values in all that we do and we promote 'British Values' through our spiritual, moral, social and cultural education which permeates through the school's curriculum and supports the development of the 'whole student'. Our school vision, values and general ethos support the fundamental British values and we have a strong emphasis on the development of SMSC across the school.
British values are:
democracy
the rule of law
individual liberty
mutual respect for and tolerance of those with different faiths and beliefs and for those without faith.
SMSC and British values are included in suitable parts of the curriculum and are promoted at every opportunity as part of the overall ethos and values of the school for example through assemblies, extracurricular opportunities and student voice. The importance of laws, whether they are those that govern the class, the school or the country, are reinforced during the school day, as well as when dealing with behaviour and safety, through assemblies, and the PSHCE programme.
Examples of where British values are taught and promoted at Selby High School include:
Within PSHCE - The Law and The Courts, An Introduction to Citizenship, Identity and Diversity and Relationships, Rights and Responsibilities, Democracy, and Citizenship Project.
Student voice – Democracy plays a key role within day to day life of Selby High School. Students have the opportunity to have their voices heard through a number of student councils, are actively encouraged and provided with opportunities to participate in wider student voice events such as the student voice summit, and they play a part in our staff recruitment process. As well as student councils students are represented by our Prefects, Sports Captains, and Head Boy and Girl. Selby High School is one of only 41 schools nationally had been awarded a Discovering Democracy Award by the British Youth Council in recognition of their commitment to a democracy curriculum and raising awareness of democracy.
Mock elections – students have taken part in mock elections and elections for Members of the Youth Parliament for the North Yorkshire Area.
Religious education - teaching resources from a wide variety of sources are used to help students understand a range of faiths. RE at Selby High School aims to promote understanding of different cultures locally, nationally and in the wider world and to contribute to social and community cohesion.
Extra-curricular activities – opportunities for extracurricular activities that promote fundamental British values are encouraged for example trips to Parliament and participation in democracy and student voice events.
Assemblies – assemblies are carefully planned each year and include SEMH and well-being themes as well as SMSC and British values e.g. 70th Anniversary of the United Nations & the role of British values in shaping the world, Eradicating World Poverty and World Kindness Day, Remembrance, SEMH awareness raising, Bonfire night safety and what we can learn from terrorism and conflict.