Remembrance Day 2015
On Wednesday 11th November at 11.00am, we showed our respect in an act of remembrance by observing two minutes of silence for those who have given their lives in past and present conflicts.
Poppies were sold on behalf of the The Royal British Legion and students at the school who are members of uniformed organisations wore their full uniforms for the day.
The key theme in the assemblies this week is that 'we shall not forget' and we begin by discussing the idea of what remembrance is and the origins of Remembrance Sunday and Armistice Day. As we have now passed the centenary of the start of the First World War we look at how it is important that we continue to remember those who made sacrifices that allow us to have our freedom today and how this is being done.
We look at the work that was undertaken at the Tower of London to install 888,246 ceramic poppies to create a powerful visual commemoration for each British and Colonial fatality during the First World War. Over 21,688 people volunteered to install the poppies and over 5 million people have travelled from around the world to see them. The 14-18 NOW programme has now created artistic displays using ceramic poppies at other venues and we look at the display created at the Yorkshire Sculpture Park.
Finally, we end by looking at a verse from the poem 'For the Fallen' by Robert Laurence Binyon and remember those who have fought in other conflicts such as the Second World War, The Falklands, Iraq, Afghanistan and for those who continue to protect us today.
"They shall grow not old, as we that are left grow old:
Age shall not weary them, nor the years condemn.
At the going down of the sun and in the morning
We will remember them."
We were privileged to send our House Captains to attend the Selby Civic Service of Remembrance at the cemetery today. Students were able to place a poppy cross to remember those from the town, and surrounding area, who gave their lives in conflict. We joined local dignitaries, schools and members of the public to commemorate and remember. Rhianna Boiston, year 8, was also given the honour of playing the Last Post and Reveille, which she did superbly!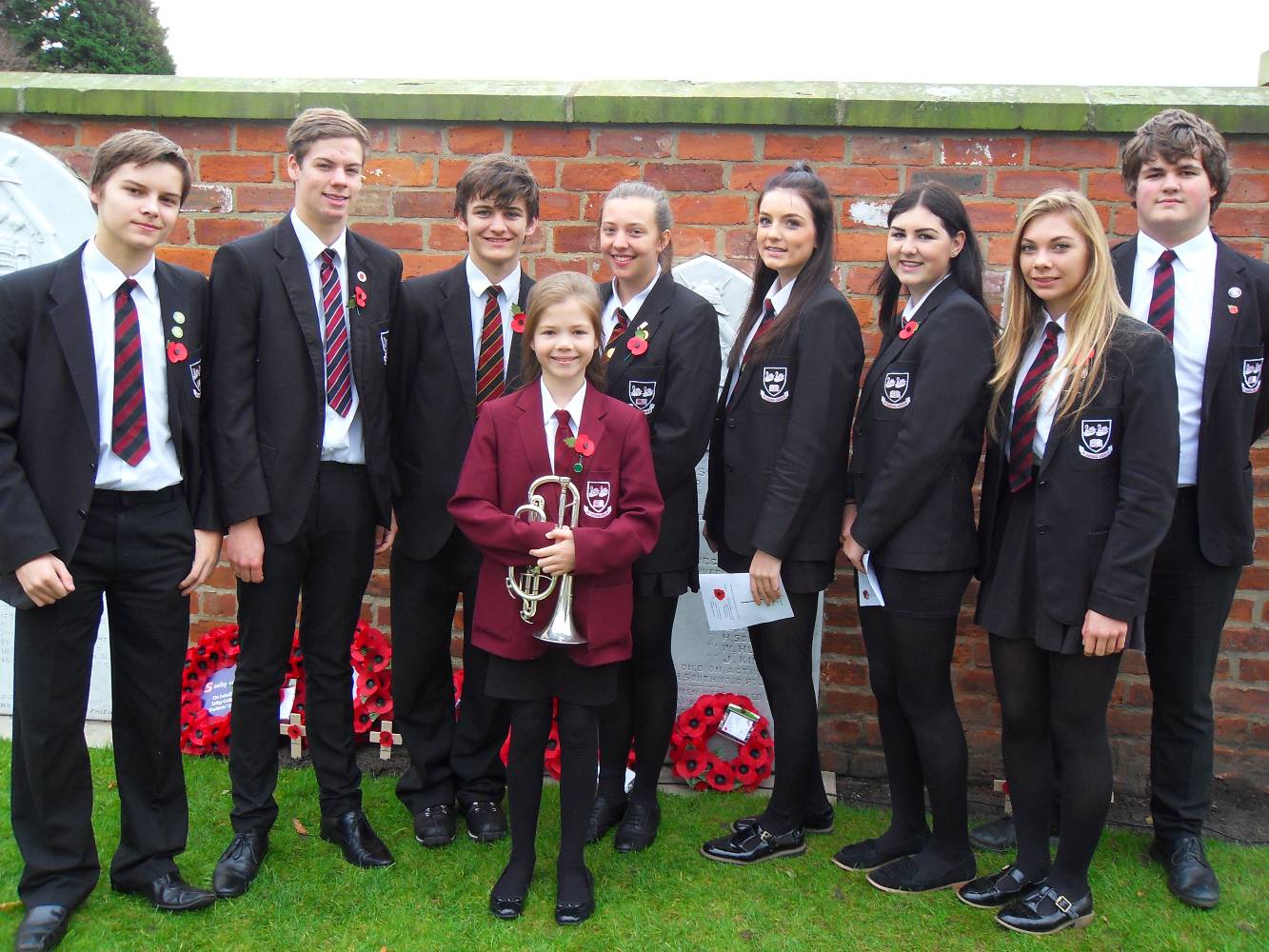 L-R: Harry Barton, Alex Mosey, Jack Porter, Rhianna Boiston, Jacqui Pascoe, Kyra Marshall, Amy Cavill, Georgia Carlin & Blake Chaplin
Daniel Betteridge (H2) and Lewis McGregor-Smith (H8) volunteered to sell poppies throughout the school for this year's appeal. They visited every form and have helped to ensure the vast majority of students were wearing poppies at this important time of the year, when we remember those in the armed forces who have served, and continue to serve our country.
Students and staff from Uniformed Youth Organisations.
The following presentation was shown at 11.00am on Wednesday 11th November.